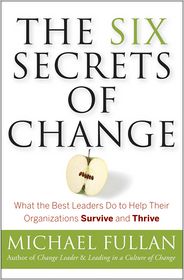 Fullan, M. (2011). The six secrets of change: What the best leaders do to help their organizations survive and thrive. San Francisco: Jossey-Bass.
Michael Fullan is a prolific education researcher based out of Ontario, Canada. This book is great because it is a very concise summary of major themes that have run throughout his work over the last decade. While brief, each chapter features a couple powerful pieces of research supporting the themes, along with a few poignant case studies case studies drawn from a diverse array of fields including education (many from his own work in Ontario, Canada), medicine, and exemplars from corporate America you might expect to find in an MBA course.
The book is structured as a survey of the six "secrets" prefaced by an introduction that explains how interdependently these key components function. Throughout, Fullan provides powerful examples and applications of the component that paint a compelling vision of the impact they could have on schools if they were identified as the targets of a clear strategic plan. I will summarize each secret briefly here, but won't really do them justice without the rich context Fullan provides.
The first secret is to "Love Your Employees", primarily by providing them opportunities for continuous learning and growth as professionals to help them find meaning with their work. In schools, we have a mandate to maintain a laser focus on the importance of focusing on student learning and prioritizing the needs of students in all of our decisions. But while supporting this mandate, we cannot underestimate the importance of teachers as our primary investment, as "the quality of the education system cannot exceed the quality of its teachers" (23). Fullan recommends that the best way to express this "love" to your teachers is to provide them the tools and conditions they need to be successful so that they can experience efficacy and meaning in their work. Fullan cites case studies from employee empowering companies from corporate America identified in the 2007 Firms of Endearment study providing illustrative examples of corporations in competitive sectors outperforming their comparison companies by placing a premium on making their employees feel valued, empowered, and supported in their professional growth.
Secret two follows as the primary strategy for showing this "love" and it is embodied in Fullan's charge to "Connect Peers With Purpose" by fostering "purposeful peer interaction" to help maintain the necessary balance of loose-tight leadership (12). Under an effective "loose – tight" leadership model, teachers and leaders are empowered to make key decisions during the change process (the "loose") after the organization has outlined the few non-negotiable goals they have agreed to pursue with discipline (the tight). Fullan explains how purposeful interaction can improve focus and cohesion by applying the principles of Thomas Friedman's The World Is Flat: A Brief History of the Twenty-first Century (2005) through the levers of using technology to increase collaboration, flattening the organization, and including the participation of a broader array of stakeholders.
Put simply, bringing peers together to collaborate, provided it is with clear purpose that supports the higher calling of the organization, almost always results in powerful action plans. One of the examples from education Fullan cites is something he dubs "lateral capacity building" whereby schools and districts implement purposeful structures to learn from each other. These networks not only create a powerful forum for sharing effective practices, but also a conduit to transparently share each organization's results, creating very positive competition between schools and districts. Fullan cautions that it is very important that these collaborative efforts must focus on a higher purpose beyond one individual classroom, project, or initiative. He calls for a larger collective "we-we commitment" towards improving the work of each other in pursuit of the same higher purposes of the organization (p.50).
The third "secret" that Fullan reveals is that "Capacity Building Prevails", calling for organizational improvement by "investing in the development of individual and collaborative efficacy" and providing accountability through an approach that embraces "nonjudgmentalism". Through this approach, he argues organizations can provide accountability through transparency and peer interaction instead of pejorative judgments and punitive actions.
Fullan spends considerable time arguing that what he dubs "judgementalism" or stigmatizing and hectoring people for poor performance, is counterproductive (p.58). He contends that fear-based negative monitoring not only is counter-productive in the long-term, but that it can motivate employees to wrong and even unethical decisions in the short-term. Instead, we must focus on the long-term higher goals of the organization and building collective commitments to action.
The prescription for this capacity building, according to Fullan is as follows: 1. hire outstanding people, 2. eliminate stigma and fear, 3. Increase purposeful peer interaction, and capitalize on the positive competition that will result in order to build capacity.
The most resonant component of this capacity building recipe is the one that I have seen as most influential in my 15 years in our profession: hiring outstanding people. Fullan presents compelling studies of top performing school systems in Singapore, Finland, and Boston in order to highlight the commitment they have made to recruiting and developing the very best teachers, and then subsequently inducting them into professional growth programs that develop them into even better teachers, instructional coaches, or principals. But I didn't need Fullan to cite research for me on this one. The very best Principals and Superintendents I have had the privilege to work for or with in my career were the ones that relentlessly demanded rigorous hiring processes that identified outstanding candidates. They then assured the new hires that they were expected to grow as a professional, take risks with confidence, and become leaders.
The fourth "secret" is "Learning is the Work" which Fullan highlights as the need to embed the belief that the best learning happens every day in the midst of the work, not during a three-day conference hundred of miles away. It is not as simple as ensuring that professional development is job-embedded, but also that is focused and disciplined on the goal of constantly improving instructional practice. The secret of developing this culture, according to Fullan, lies "in our integration of the precision needed for consistent performance (using what we already know) with the new learning required for continuous improvement" (76). So the hard part is that the learning must simultaneously focus on both improving consistency and fostering innovation.
Fullan cites a powerful example from the field of Medicine culled from Atul Gawande's Better (2007) and engineering (vignettes from Toyota's relentless commitment to constant learning and reflection). From education, he tells the story of outstanding work in Thornhill Secondary School in Ontario, where great gains in literacy scores are "possible primarily because teachers sustain their willingness to improve with relentless consistency" (p.85).
A major caveat that Fullan is careful to stress is that the learning must take place in context. Fullan quotes another giant in the field of school reform, Richard Elmore, to articulate this challenge.
The problem [is that] there is almost no opportunity for teachers to engage in continuous and substantial learning about their practice in the setting in which they actually work, observing and being observed by their colleagues in their own classrooms and classrooms of other teachers in other schools confronting similar problems of practice. (cited on 86)
The fifth secret is that "Transparency Rules" as Fullan prescribes the "clear and continuous display of results" to create the "positive pressure" that drives continuous improvement. It is important that this is accompanied by the development of a culture whereby stakeholders understand that "Transparency requires assessing, communicating and acting on data pertaining to the what, how, and outcomes of change efforts" (93). He Emphasizes that the measurement and reporting should not be conducted an in attempt to have the "tail wag the dog" through fear and retribution. We should also not seek to measure, collect, and report endless data for which there is no accompanying action. Instead, measurements should "focus on selected outcomes and specific actions" (94). An example he gives from Ontario is the development of networks of school districts who have gathered themselves around comparison districts they have identified as "statistical neighbors" to enable teacher leaders to chart their progress against challenging, yet attainable targets (96).
Fullan explains that "transparency rules", firstly because it is ultimately inevitable due to the exponential "flattening" Friedman describes, but also because it provides employees the ability to assess the progress and impact of their work, thereby enabling them to find the meaning essential to the vibrant organizations he describes (100). It is incumbent on leaders to develop an organizational culture in which candor is encouraged and it is safe to fail for the type of transparency he describes to have a transformative effect.
Fullan's conclusion outlines the final secret that "Systems Learn" which essentially calls for an organization to find ways to always be seeking to improve and have the humility to be willing to change in the face of a complex world. He says this is best achieved by developing leaders who can live the paradox of having the confidence to grapple with the increasing complexity of the world while maintaining the humility necessary to change when the context demands it.
Michael Fullan would facilitate our strategic planning process because he would not only be able to to help us identify the areas of our school systems that we want to improve, but also help us embrace the key organizational values that will make those improvements possible.
Next On In A Perfect School . . .             Steven Farr Would Run Our Teacher Mentor Program . . .