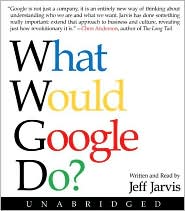 Jarvis, J. (2009). What would Google do?. New York: HarperCollins.
I first learned about this author and blogger (
buzzmachine.com
) when I heard him as one of the weekly panelists on an amazing podcast I listen to called
This Week in Google
. I know you're thinking, "seriously you listen to a weekly podcast about a search engine?" But of course google is not just a search engine, and the podcast is not just about google, but is a comprehensive weekly update of the exponential changes that are happening in the open information revolution due to the major cloud networks and mobile software platforms (Android, iOS).
Jarvis and the other genius panelist Gina Trapani (
Smarterware.org
) are especially fascinating because they are generally advocates of open-source everything. As an educator, I am especially invested in keeping up to date with this perspective, as I believe it will have a huge impact on our work in the next 10 years as we will no longer be able to resist the inevitable shift to open curicula and 1-1 learning devices for students. I think it will actually be much less than 10 years, but I have underestimated the institutional inertia of public schools before. For example, when I first read Clayton Christensen's
Disrupting Class
, he had me convinced it was 5 years away. That was 2008.
This Jarvis book is generally written for businesses, and there are only 8 pages that speak directly to the impact this revolution will have on schools. However, it is still worth everyone reading (or at least start listening to the TWIG podcast), because it is easy to transfer the massive disruptions these changes are making in business to our work in schools. Jarvis identifies 8 new rules of the google age, but 3 of the 8 are especially disruptive in education.
– Customers are now in charge. They can be heard around the globe and have an impact on huge institutions in an instant.

– The most successful enterprises today are networks-which extract as little value as possible so they can grow as big as possible-and the platforms on which those networks are built.

– Owning pipelines, people, products, or even intellectual property is no longer the key to success. Openness is. (p.1-2*)
If you replace "customers" with "students" and "success" with "learning" in the above quote you start to get the idea of how revolutionary these ideas will inevitably be in a public high school.
Jarvis is one of the best communicators of the idea I discussed in
last week's post
 from Milton Chen that "the lecture is dead". This will be the first and most obvious impact 1-1 programs will have on high school teachers. I already saw this in my doctorate classes as we all had laptops and could factcheck our professors on the fly. Jarvis explains the new realities of schools succinctly.
All the world's digital knowledge is available at a search. We can connect those who want to know with those who know. We can link students to the best teachers for them (who may be fellow students). We can find experts on any topic. Textbooks need no longer be petrified on pages but can link to information and discussion; they can be the products of collaboration, updated and corrected, answering questions and giving quizzes, even singing and dancing." (p.225*)
 "Curating" is a word Jarvis uses a lot in his work. Basically the idea is that information is power, but the trick is no longer in having enough information. Instead the trick is being able to sort through all of the information that is out there and like a museum curator, put that knowledge into some kind of coherent story that can convey meaning, express ideas, and solve problems.
Put simply, the digital natives in our classroom understand that the concept of the teacher presenting one version of knowledge is an antiquity. They understand that learning is now about curating and utilizing extant knowledge to solve problems. It is no wonder our students often disengage from instruction that focuses on consuming one version of knowledge. They understand the skills they need to be happy and successful are curation and creation.
This does not mean we should close our schools, give kids a google tablet and trust they will learn everything they need to in time to have a fulfilling life. I still need a job after all! Don't disintermediate school administrators!
We still need schools because the skills of curation and creation are sophisticated and do not develop organically. The internet makes schools as conveyers of knowledge obsolete, but makes schools as developers of curation, creation, and collaboration skills even more essential.
The last major impact Jarvis identifies for teachers and administrators is the shift towards open curricula learning. The days of each teacher, school, or district having its own unique snowflake of a curriculum for its students will also soon be gone. The
common core standards
, developed since his book was published, are quickly helping us stop arguing over the "what" of our work.
The "how" certainly need not be the same in every classroom, as that is where the art of pedagogy takes over. However, the best designed curricula for the courses we teach will soon be a living online document that we should all utilize, edit, and improve. If a U.S. History curriculum written by a district wide team of teachers is better than one written by just me, imagine how good one written by a world wide team of teachers would be!
Jeff Jarvis would be our ambassador to the digital natives, because although he is not a digital native himself, he understands how to explain to them that we are slowly coming to terms with the reality that we need to do more than hand them a 4 lb. textbook and one version of knowledge. We may be going there kicking and screaming, but we are going there . . .
* Page numbers are from the
Google Books
E-Edition
Next On 
In A Perfect School . . .               
Robert Barr Would Be Our Instructional Coach . . .